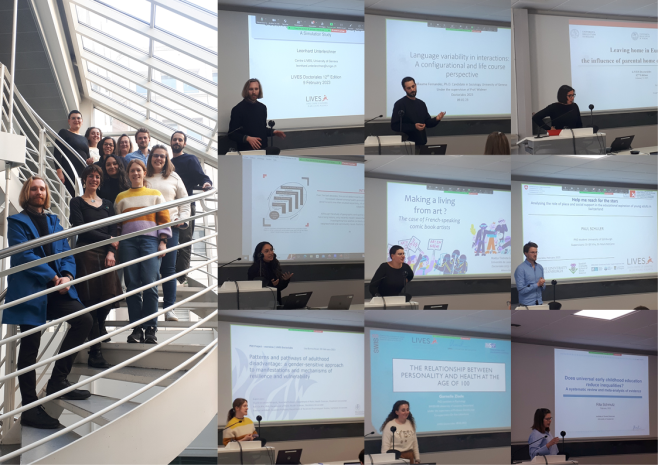 On Thursday 9 February 2023, the LIVES Centre held the 12th edition of its Doctoriales: a research day entirely dedicated to the thesis work of doctoral students. They presented the current state of their research and submitted it to the criticism of experts. Prior to these presentations, Prof. Xavier Thierry held a public lecture about the first French national longitudinal study, ELFE. 
This is a valuable opportunity for young researchers to receive feedback from more experienced colleagues who share a perspective often from another discipline. It is also an opportunity to get an overview of the thesis work carried out within the LIVES Centre. 
Health in old age - Garnelle Ziade - "The Relationship Between Personality and Health at the Age of 100

Education - Rita Schmutz - "Does universal early childhood education reduce inequalities? A systematic review and meta-analysis of evidence."

Child protection policy - Oscar Waltz - "Capabilities development and recognition: what are the issues for the child protection policy in Geneva?"

Social determinants of health - Cecilia Delgado - "Subjective and Objective Territorial and Network Effects on Mental Health: Evidence from a Municipality in Switzerland."

Transition to adulthood - Violetta Tucci - "Leaving home in Europe: the influence of parental home ownership status"

Interpersonal network and language - Guillaume Fernandez - "Language variability across interactions: A configurational approach".

Professional trajectories - Maëlys Tirehote-Corbin - "To make a living from your art? The case of francophone comic book artists."

Dynamics of vulnerability - Lisa Bornscheuer - "Resilience, vulnerability and gendered life-courses: exploring the mechanisms behind patterns of disadvantage in the context of adversity."

Social network and individual aspirations - Paul Schuler - "Analysing the influence of personal networks and place on the life course aspirations of young adults in Switzerland"

Methodology - Léonhard Unterlerchner - "A review of clustering algorithms applied to sequence analysis".
Prior to the presentations of the PhD students, the day started with a public lecture by Prof. Xavier Thierry from the Institut national d'études démographiques, about ELFE, the first French longitudinal study of national scope.