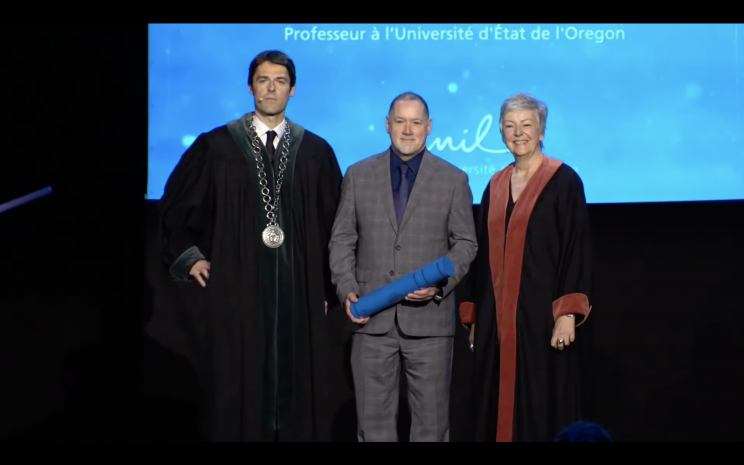 On Friday 3 June 2022, on the occasion of the Dies Academicus of the University of Lausanne, the Dean of the Faculty of Social and Political Sciences, Nicky Le Feuvre, awarded the title of Doctor honoris causa to prof. Richard A. Settersten (Oregon State University - USA). Commenting on the faculty's decision, Nicky Le Feuvre highlighted the major aspects that motivated this award. First of all, Rick Settersten's major contribution to the field of life course, a theme that is particularly important to the faculty and the LIVES Centre. Furthermore, the Dean underlines his development of an innovative multidisciplinary approach, which articulates developmental psychology with the socio-historical context in which individuals evolve. Finally, Prof. Le Feuvre acknowledges the valuable participation of Rick Settersten, a real "benevolent guide", who contributed to the success of the LIVES Centre. His special attention to the next generation of researchers has been an invaluable gift. 
In response to this congratulatory speech, the laureate thanked the University for this award which has a very special value for him. Indeed, his strong link with the institution and the LIVES Centre has been "one of the most rewarding aspects of his career". After the official ceremony, prof. After the official ceremony, Prof. Settersten gave a lecture entitled "Human Development and a Sociological Imagination: A Social Scientist's Journey" in front of some 50 researchers and friends. To thank Richard Settersten for his investment and to celebrate this award, an aperitif was held afterwards at the Perchoir, the bar of the Vortex, on the UNIL campus. 
Professor Richard Settersten is Distinguished Professor and Barbara E. Knudson Professor of Human Development and Family Studies at Oregon State University. He has been a member of the international advisory board of the NCCR LIVES since 2010 and collaborates scientifically with different researchers at the University of Lausanne on the theoretical foundations of interdisciplinary life course approaches and on how lives are shaped by societal norms and social relations. He has also given several training workshops in the framework of the LIVES doctoral programme and the LIVES Winter School. Overall, he has been a major source of inspiration for many life course researchers and a key supporter of the success of the NCCR LIVES.