The main objective of the LIVES Centre is to develop theories to understand and analyse the various forms and dynamics which vulnerability may assume and to find out how to overcome it (basic research). The researchers of LIVES analyse the factors and processes which make individuals differently vulnerable to sources of stress, the long-term consequences for the life course, as well as the resources used and the actions taken by individuals or by those around them so as to cope with vulnerability, to overcome it or to diminish its negative consequences.
Three missions at the heart of the LIVES Centre's activities
Science, society and training are at the heart of the LIVES Centre's research, and make it a reference centre at national and international level.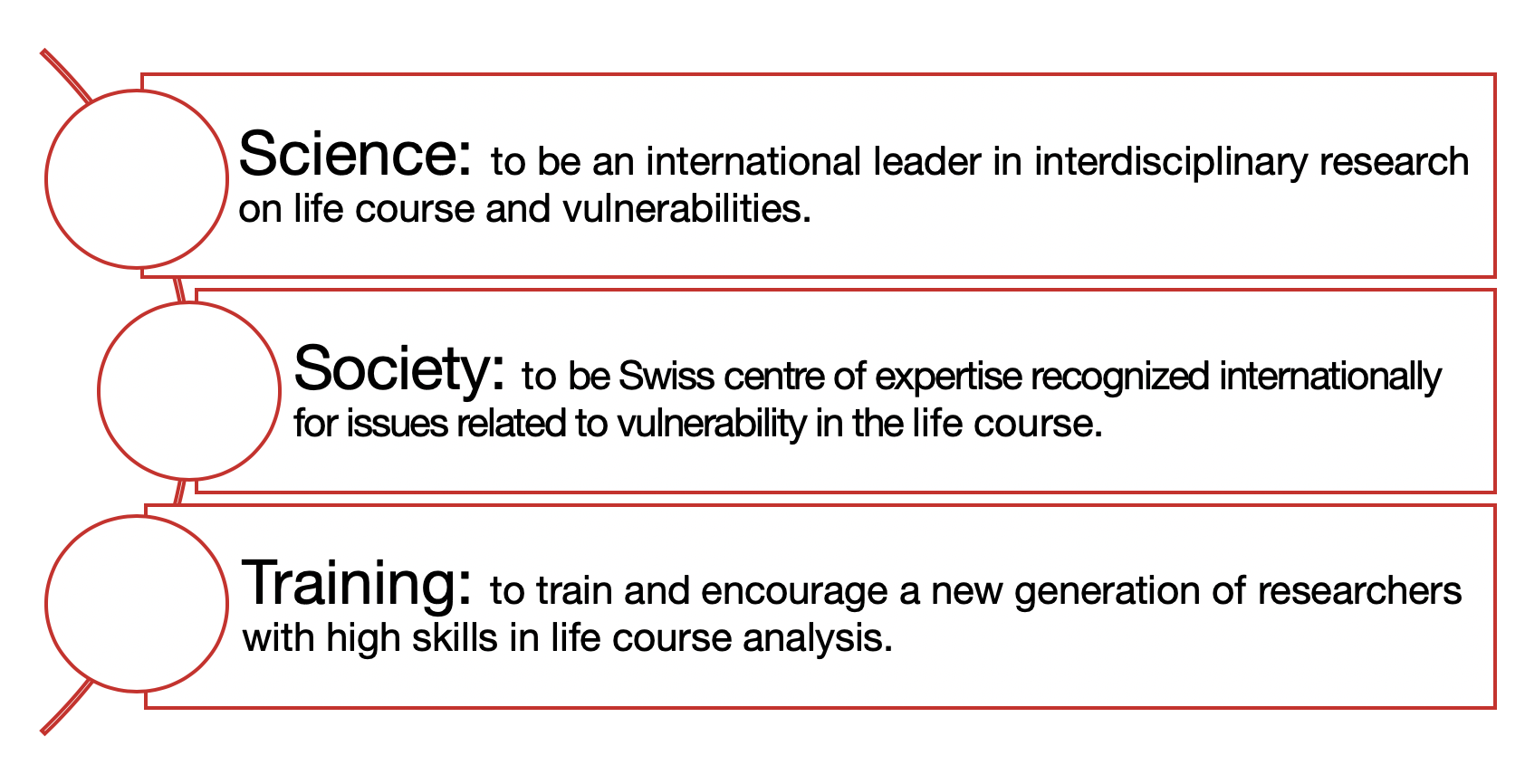 To sum up, the LIVES Centre has the mission to study and analyse:
the relationship between social structures, institutional settings and individual life courses, particularly in Switzerland, while scrutinizing the social dynamics of vulnerability during the life course so as to develop effective counter-measures

"new social risks" such as instability of personal relationships, growing insecurity in the labour market and the consequences of economic crises

the role and the effectiveness of the welfare state and of personal initiative during the different stages of life (youth, adulthood, old age)

transfer effects: analysis of individual life trajectories takes place at the intersection of the trajectories of family and work life, health and the utilisation of public and private services. What is the impact of a breakdown or turning-point (divorce, job loss, accident, birth, etc.) in one "career" on the other "careers"? And what is the impact of these events on those around one?

cumulative effects: are life accidents distributed randomly? Which social groups are most at risk for vulnerability? When one gets into a spiral of vulnerability, do the risks accumulate? What resources are the most helpful in making up for losses?

the effectiveness of individual and social resources in combating life stress and coping with trials, even coming out of them feeling stronger
To achieve its objectives, the LIVES Center has available a range of tools and approaches that will lead to the development and promotion of national social science research structures:
interdisciplinary research approaches in social science and in collaboration with other scientific fields (medicine, biology, history, etc.)

innovative methodologies for collection and analysis of longitudinal data of high quality and comparable with the international level

a new research model for a cross-sectional analysis of social dynamics at the interface of work, family and institutions (hospitals, care and rehabilitation facilities)

a network of researchers who have been successfully working for 20 years on issues of life course and lifestyle

development of scientific initiatives at the national and international level

cooperation with the Swiss Centre of Expertise in the Social Sciences (FORS) and the Federal Statistical Office (FSO), as well as with a variety of cantonal authorities